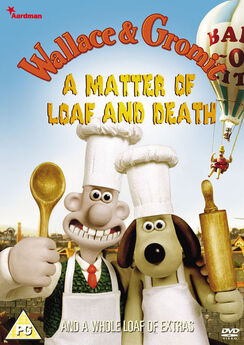 A Matter of Loaf and Death is a 2008 British clay animated murder mystery comedy film created by Nick Park, and the fourth of his shorts and the last to date to star his characters Wallace and Gromit.[3] Released in 2008, it is the first Wallace and Gromit project since the feature film The Curse of the Were-Rabbit in 2005, and the first short since A Close Shave in 1995.[4]
A Matter of Loaf and Death is a mock murder mystery, with Wallace and Gromit starting a new bakery business. When the duo both learn that bakers have been mysteriously murdered, Gromit tries to solve the case before Wallace ends up a victim himself.[5] The short follows the same basic outline as A Close Shave, and, in the film, Wallace falls in love, with disastrous consequences; his love interest is bread enthusiast Piella Bakewell, former advertiser for a local bread firm, but she turns out to be his worst nightmare. Additionally, Gromit falls in love for the first time, as he becomes attached to Piella's downtrodden poodle, Fluffles, who reciprocates his affection.
Appearances in EDP projects
Edit
Ad blocker interference detected!
Wikia is a free-to-use site that makes money from advertising. We have a modified experience for viewers using ad blockers

Wikia is not accessible if you've made further modifications. Remove the custom ad blocker rule(s) and the page will load as expected.