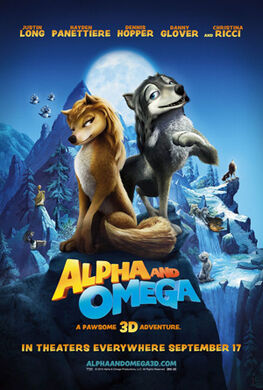 Alpha and Omega is a 2010 3D Canadian-American computer-animated adventure/comedy-drama film produced by Crest Animation Productions. The film is directed by Anthony Bell and Ben Gluck, starring the voices of Justin Long, Hayden Panettiere, Dennis Hopper, Danny Glover, Christina Ricci, and Chris Carmack. It is based on a story by Steve Moore and Ben Gluck. The film was released in 2-D and 3-D on September 17, 2010 to 2,625 theaters nationwide by Lionsgate.[3] A direct-to-DVD sequel, Alpha and Omega 2: A Howl-iday Adventure, was released on October 8, 2013. Another sequel, Alpha and Omega 3: The Great Wolf Games, was released on March 25, 2014. Alpha and Omega: The Legend of the Saw Tooth Cave was released on September 23, 2014. Alpha and Omega: Family Vacation was released to DVD on August 4, 2015 and three more sequels are planned.[4] The film was dedicated to the memory of Dennis Hopper, as this was his final performance prior to his death.
Appearances in EDP projects
Edit
Ad blocker interference detected!
Wikia is a free-to-use site that makes money from advertising. We have a modified experience for viewers using ad blockers

Wikia is not accessible if you've made further modifications. Remove the custom ad blocker rule(s) and the page will load as expected.