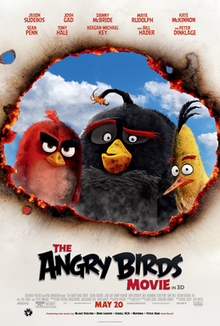 The Angry Birds Movie (or simply Angry Birds) is a 2016 computer-animated comedy film based on the video game series of the same name directed by Clay Kaytis and Fergal Reilly and produced by Sony Pictures Imageworks,
It features Jason Sudeikis as Red, Josh Gad as Chuck, Danny McBride as Bomb, Maya Rudolph as Matilda, Bill Hader as Leonard, Kate McKinnon as Stella,and Eva, Peter Dinklage as the Mighty Eagle, Sean Penn Terence, Tony Hale as Ross and some others, Keegan-Michael Key as Judge Peckinpah, and musical guest american singer Blake Shelton as Earl
The film was made during the success of the Angry Birds Toons, as one of the employee in Ravio, Jami Laes got the idea of making a feature film with the Angry Birds
Appearance in EDP projects
Edit
AniMat's Reviews - The Angry Birds Movie - he reviews the film for it's story that can be a bit of a mixed of good or mean in the first act, say that the 2nd act is the weakest aspect of the film, and the 3rd act which makes it appealing, animation that is not too cartoony but is nicely done for the film, and characters that can be great, funny, or just annoying.
Ad blocker interference detected!
Wikia is a free-to-use site that makes money from advertising. We have a modified experience for viewers using ad blockers

Wikia is not accessible if you've made further modifications. Remove the custom ad blocker rule(s) and the page will load as expected.