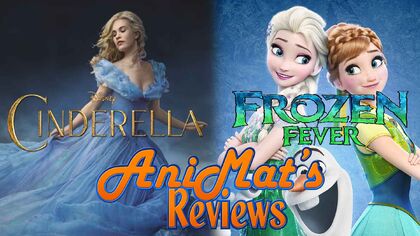 AniMat's Reviews - Cinderella + Frozen Fever is the the 10th episode of AniMat's Reviews (Specials) and the 1st episode of Season 2015. In the episode, AniMat reviews the Disney live-action remake film, Cinderella. He gives it a favorable review, and scoring it with a 7/10. Also, he reviews the animated short that was shown in theaters with the film, Frozen Fever and gives it an average review.
Transcript
Edit
Note: The Transcript is not yet complete.
Ad blocker interference detected!
Wikia is a free-to-use site that makes money from advertising. We have a modified experience for viewers using ad blockers

Wikia is not accessible if you've made further modifications. Remove the custom ad blocker rule(s) and the page will load as expected.