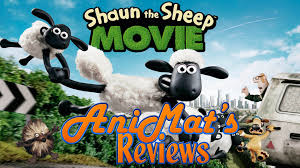 AniMat's Reviews - Shaun the Sheep Movie is the 62nd episode of AniMat's Reviews and the 6th episode of Season 2015. Aardman animation is here with the sheep that never missed a trick, or ever lose a beat with Shaun the Sheep Movie (based from character from the series and the Wallace and Gromit short A Close Shave created by Nick Park). And AniMat gives it an average review with a score of an 8/10. Also, the movie has the 4th place in the Top 4 Best & Worst Animated Films of 2015, along with SpongeBob Movie: Sponge Out of Water, The Peanuts Movie and Inside Out.
Ad blocker interference detected!
Wikia is a free-to-use site that makes money from advertising. We have a modified experience for viewers using ad blockers

Wikia is not accessible if you've made further modifications. Remove the custom ad blocker rule(s) and the page will load as expected.