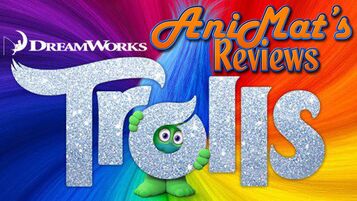 AniMat's Reviews - Trolls is the 80th episode of AniMat's Reviews and the 15th episode of Season 2016.
Well this movie can't really stop the feeling of "Happy, Rainbow, Butterfly, Pony, Flowers" as AniMat reviews DreamWorks animated film Trolls, and this work is like their last movie Home along with an average score of a 5/10 as well as that.
Ad blocker interference detected!
Wikia is a free-to-use site that makes money from advertising. We have a modified experience for viewers using ad blockers

Wikia is not accessible if you've made further modifications. Remove the custom ad blocker rule(s) and the page will load as expected.