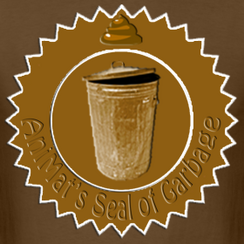 AniMat's Seal of Garbage is a seal that AniMat awards to animated films that he rates with a 1/10 to a 4/10. The seal was created in 2011 and first appeared in AniMat's Reviews: Hoodwinked Too! Hood vs. Evil. The seal of garbage appears in AniMat's Reviews as well as it's recently-created spin-off, AniMat's Classic Reviews. It also has a counterpart for good films called, AniMat's Seal of Approval. The seal also has an appearance in Top 5 Best & Worst Animated Films of 2013.
Ad blocker interference detected!
Wikia is a free-to-use site that makes money from advertising. We have a modified experience for viewers using ad blockers

Wikia is not accessible if you've made further modifications. Remove the custom ad blocker rule(s) and the page will load as expected.