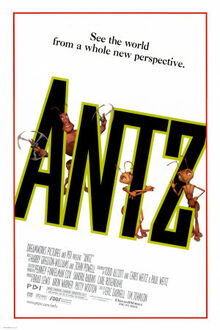 Antz is a 1998 American computer animated adventure comedy film produced by DreamWorks Animation and distributed by DreamWorks Pictures. It features the voices of actors such as Woody Allen, Sharon Stone, Jennifer Lopez, Sylvester Stallone, Dan Aykroyd, Anne Bancroft, Gene Hackman, Christopher Walken, and Danny Glover as various members of an ant society. Some of the main characters share facial similarities with the actors who voice them.[2] Antz is the first animated film, as well as the first CGI-animated film, by DreamWorks Animation and the second feature-length computer-animated film after Disney·Pixar's Toy Story.
The film was result of a controversial public feud during the production, between DreamWorks Animation CEO Jeffrey Katzenberg and Steve Jobs and John Lasseter of Pixar, concerning the parallel productions of this film and Pixar's A Bug's Life. Which only worsened when Disney refused to avoid competition with DreamWorks' intended first animated release, The Prince of Egypt. The film premiered on September 19, 1998, at the Toronto International Film Festival,[3] and was released theatrically in the United States on October 2, 1998.
Appearences in EDP Projects
Edit
Top 10 OTHER Disney Villains when discussing #8 on the list, Jeffery Katzenberg, he says that DreamWorks and Disney's animated films have a sense of familiarity, and gives us examples. One of those examples consists of the poster for Antz being shown on screen, alongside the poster for A Bug's Life.
AniMat's Classic Reviews - Antz (upcoming)
Ad blocker interference detected!
Wikia is a free-to-use site that makes money from advertising. We have a modified experience for viewers using ad blockers

Wikia is not accessible if you've made further modifications. Remove the custom ad blocker rule(s) and the page will load as expected.