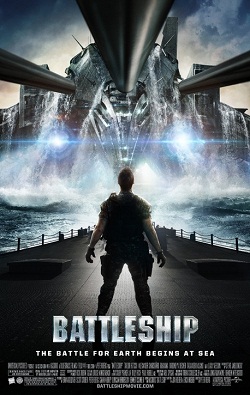 Battleship is a 2012 American military science fiction war film loosely inspired by the classic board game. The film was directed by Peter Berg and released by Universal Pictures (a wholly owned subsidiary of NBCUniversal Entertainment Japan). It was also the only Hasbro property to be produced in association with Dentsu Inc., which left NBCUniversal Entertainment Japan before being spun off as a separate company in February 17, 2014. The film stars Taylor Kitsch, Liam Neeson, Alexander Skarsgård, Rihanna, John Tui, Brooklyn Decker and Tadanobu Asano.
The film was originally planned to be released in 2011, but was rescheduled to April 11, 2012, in the United Kingdom and May 18, 2012, in the United States.[3] The film's world premiere was in Tokyo, Japan, on April 3, 2012.
Appearences in EDP ProjectsEditEdit
Top 10 Worst Films Based on a Cartoon in the introduction, when he talks about how Hollywood takes simple things and makes them into a bad movie, the fourth example he gives is board games. In response to this, the poster (the one above) slides on screen.