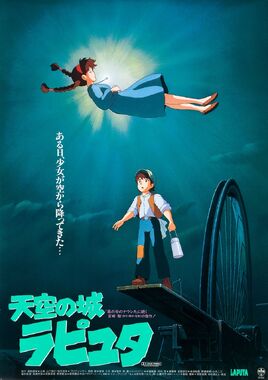 Castle in the Sky
 (Japanese: 天空の城ラピュタ Hepburn: 
Tenkū no Shiro Rapyuta
?
) (re-titled 
Laputa: Castle in the Sky
 for re-release in the United Kingdom and Australia) is a 1986 Japanese animated adventure film written and directed by Hayao Miyazaki and is also the first film produced and released by Studio Ghibli. The film was distributed by Toei Kabushiki Kaisha. 
Laputa: Castle in the Sky
 won the Animage Anime Grand Prix in 1986.
Ad blocker interference detected!
Wikia is a free-to-use site that makes money from advertising. We have a modified experience for viewers using ad blockers

Wikia is not accessible if you've made further modifications. Remove the custom ad blocker rule(s) and the page will load as expected.