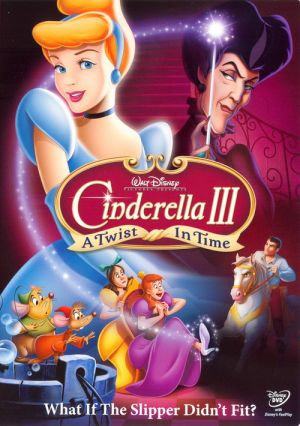 Cinderella III: A Twist in Time is the second direct-to-video sequel to the 1950 Walt Disney Pictures animated classic Cinderella. Canonically it is a continuation of the original Cinderella, rather than Cinderella II: Dreams Come True, though due to its unusual chronological sequencing it acknowledges the events of Cinderella II: Dreams Come True by using some of its characters. The film was released on February 6, 2007 and was directed by Frank Nissen and features the voices of Jennifer Hale and Susanne Blakeslee. For the UK release of the film, it was simply titled Cinderella: A Twist in Time, without mention of it being a sequel. It made its world television premiere on Toon Disney on December 3, 2007.
Appearances in EDP projects
Edit
Top 10 WORST Animated Sequels when talking about most of the Disney sequels at the #7 spot, he mentions Cinderella III: A Twist in Time as one of the few good Disney sequels, with footage from the film showing.