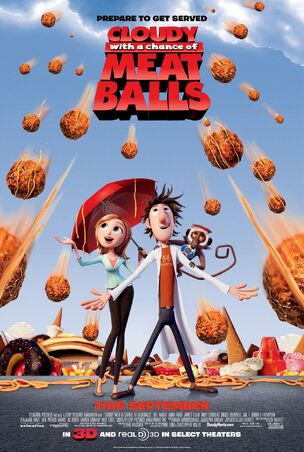 Cloudy with a Chance of Meatballs is a 2009 American computer animated science fiction comedy film produced by Sony Pictures Animation, distributed by Columbia Pictures, and released on September 18, 2009. The film is loosely based on the children's book of the same name by Judi and Ron Barrett.
The film features the voices of Bill Hader, Anna Faris, Bruce Campbell, James Caan, Bobb'e J. Thompson, Andy Samberg, Mr. T, Benjamin Bratt, Neil Patrick Harris, Al Roker, Lauren Graham, and Will Forte. It was written and directed by Phil Lord and Christopher Miller.
It was a critical and commercial success, earning $243 million worldwide on a budget of $100 million.[1] A sequel Cloudy with a Chance of Meatballs 2, was released on September 27, 2013.
Appearences in EDP Projects
Edit
AniMat's Reviews - Hotel Transylvania in the intro for the review, the poster for the film appears on screen and is mentioned by him alongside The Smurfs.  
AniMat's Classic Reviews - Cloudy with A Chance of Meatballs He reviews it and considers it to be a terrible film by awarding it the AniMat's Seal of Garbage for it's very generic story, Annoying characters, and the horrendous character design and animation. However, he does praise the heart of the film (which is the father and son relationship, which he says it almost works.) some outstanding humor, highly creative animation of the food falling from the sky, the silly premise of the film, and some good characters like Earl and Tim Lockwood.    
AniMat's Top 10 Favorite Disney Animated Films in his #7 video on Alice in Wonderland, when he's talking about how Alice is one of the perfect examples of cartoony animation, he briefly mentions the CWACOMB films briefly through a cough as "CLOUDY!!" and the film's poster appears on screen alongside that of it's sequel as examples of bad cartoony animation in today's age as opposed to that of the aforementioned Disney animated film.
Ad blocker interference detected!
Wikia is a free-to-use site that makes money from advertising. We have a modified experience for viewers using ad blockers

Wikia is not accessible if you've made further modifications. Remove the custom ad blocker rule(s) and the page will load as expected.