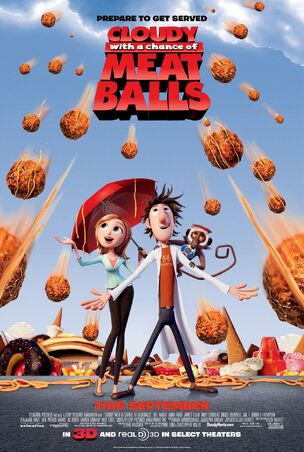 Cloudy with a Chance of Meatballs is a 2009 American computer animated science fiction comedy film produced by Sony Pictures Animation, distributed by Columbia Pictures, and released on September 18, 2009. The film is loosely based on the children's book of the same name by Judi and Ron Barrett.
The film features the voices of Bill Hader, Anna Faris, Bruce Campbell, James Caan, Bobb'e J. Thompson, Andy Samberg, Mr. T, Benjamin Bratt, Neil Patrick Harris, Al Roker, Lauren Graham, and Will Forte. It was written and directed by Phil Lord and Christopher Miller.
It was a critical and commercial success, earning $243 million worldwide on a budget of $100 million.[1] A sequel Cloudy with a Chance of Meatballs 2, was released on September 27, 2013.
Appearences in EDP Projects
Edit