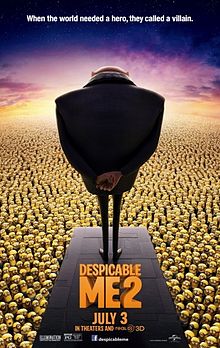 Despicable Me 2 is a 2013 American 3D computer-animated comedy film and the sequel to the 2010 animated film Despicable Me. Produced by Illumination Entertainment and distributed by Universal Pictures, the film is directed by Pierre Coffin and Chris Renaud, and written by Cinco Paul and Ken Daurio. This marks the first time that Illumination Entertainment made a sequel film.
Steve Carell, Russell Brand, and Miranda Cosgrove reprise their roles as Gru, Dr. Nefario and Margo, respectively. Kristen Wiig, who played Miss Hattie in the first film, voices agent Lucy Wilde, while Ken Jeong, who played the Talk Show Host, voices Floyd Eagle-san. New cast members include Benjamin Bratt as Eduardo (aka El Macho) and Steve Coogan as Silas Ramsbottom, head of the Anti-Villain League (AVL).
The film premiered on June 5, 2013 in Australia,[8] and was theatrically released in the United States on July 3, 2013.[2] The film received mostly positive reviews from critics, and was nominated for Academy Award for Best Animated Feature and for Academy Award for Best Original Song (for "Happy"), losing both to Disney's Frozen. Grossing over $970 million worldwide against its budget of $76 million,[5][6] the film became the second-highest-grossing animated film of 2013, the third-highest-grossing film of 2013, and broke a record as the most profitable film in the 100-year history of Universal Studios.[9]
A prequel/spin-off film, Minions, focusing on the little yellow henchmen before they met Gru, was released on July 10, 2015.[10] A third film, Despicable Me 3, is scheduled to be released on June 30, 2017.
Appearences in EDP projects
Edit
Section heading
Edit
Write the second section of your page here.