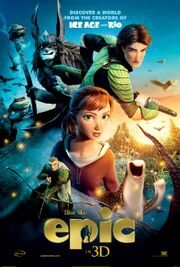 Epic (stylized as epic) is a 2013 American 3D computer animated fantasy action-adventure film[6] loosely based on William Joyce's children's book The Leaf Men and the Brave Good Bugs.[7] It was produced by Blue Sky Studios, and directed by Chris Wedge, the director of Ice Age (2002) and Robots (2005). It stars the voices of Amanda Seyfried, Josh Hutcherson, Colin Farrell, Christoph Waltz, Aziz Ansari, Chris O'Dowd, Pitbull, Jason Sudeikis, Steven Tyler, and Beyoncé Knowles. The film was released on May 24, 2013 to mixed to positive critical reception, and earned $268 million on a $93 million budget.
Appearences in EDP projects
Edit
Top 5 Best & Worst Animated Films of 2012 at the end of the video, when he looks at what 2013's animation would offer, a poster for it is shown, and he labels it as "Interesting..."
AniMat's Reviews - Epic he reviews the film and gives it a favorable review , Despite having main characters that aren't worth caring for, it has some of the best animation that Blue Sky has made yet, with a familiar but better told story.
Top 5 Best & Worst Animated films of 2013 footage of the film is shown throughout the video, mostly when he talks about it, which is when he awards it the #3 spot on the best list.
Section heading
Edit
Write the second section of your page here.