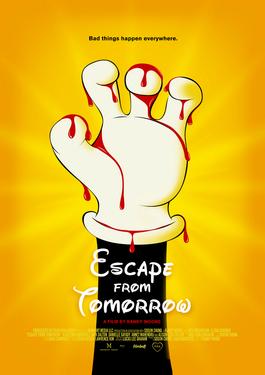 Escape From Tomorrow is a 2013 American fantasy horror film, the debut of writer-director Randy Moore. It follows an unemployed man having increasingly disturbing experiences and visions during the rides on a last day of a family vacation at the Walt Disney World Resort. It premiered in January at the 2013 Sundance Film Festival and was later a personal selection of Roger Ebert, shown at his 15th annual film festival in Champaign, Illinois. It was a 2012 official selection of the PollyGrind Film Festival, but at the time filmmakers were still working on some legal issues and asked that it not be screened.[1]
It drew attention because Moore had shot most of it on location at both Walt Disney World and Disneyland without permission from The Walt Disney Company, owner and operator of both parks. Due to Disney's reputation of being protective of its intellectual property, the cast and crew used guerrilla filmmaking techniques to avoid attracting attention, such as keeping their scripts on their iPhones and shooting on handheld video cameras similar to those used by park visitors.[2] After principal photography was complete, Moore was so determined to keep the project a secret from Disney that he edited it in South Korea. Sundance similarly declined to discuss the film in detail before it was shown. It was called "the ultimate guerrilla film".[3]
It has been compared to the work of Roman Polanski[4] and David Lynch.[2] However, many who saw it expressed strong doubts that the film would be shown to a wider audience due to the legal issues involved and the negative depiction of the parks. At the time of its premiere, Disney said only that it was "aware" of the film; since then the online supplement to Disney A to Z: The Official Encyclopedia has included an entry for the film.[5] Rather than suppressing the film, Disney chose to generally ignore it,[6] and the film was released simultaneously to theaters and video on-demand on October 11, 2013, through PDA, a Cinetic Media company.[7]
Appearances in EDP projects
Edit
AniMat's Reviews - Escape From Tomorrow he reviews the film and rewards it the AniMat's Seal of Garbage for it's confusing story, nice looking but amateurish cinematography, an unlikable main character,and multiple errors in continuity (including seeing a line to Buzz Lightyear Space Ranger Spin with Star Tours nearby).
Section heading
Edit
Write the second section of your page here.