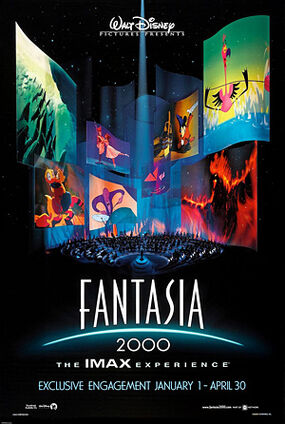 Fantasia 2000 is a 2000 American animated film produced by Walt Disney Feature Animation and released by Walt Disney Pictures. It is the 38th film in the Walt Disney Animated Classics series and the sequel to the 1940 film Fantasia. As with its predecessor the film consists of animated segments set to pieces of classical music, with The Sorcerer's Apprentice being the only segment that is featured in both films. The soundtrack was performed by the Chicago Symphony Orchestra with conductor James Levine. A group of celebrities introduce each segment in live-action scenes including Steve Martin, Itzhak Perlman, Bette Midler, Penn & Teller, James Earl Jones, Quincy Jones, and Angela Lansbury.
Roy E. Disney first thought of a sequel to Fantasia in 1974, only to pitch the film to Disney chairman Michael Eisner ten years later. Production began in 1990, and the film is noted for using a combination of computer-generated imagery on top of hand-drawn animation. Peter Schickele worked with Levine on the musical arrangement of each musical piece.
Fantasia 2000 premiered at Carnegie Hall on December 17, 1999 as part of a five-city concert tour, with performances in London, Paris, Tokyo, and Pasadena, California. An exclusive release in IMAX theaters followed from January 1 to April 30, 2000, becoming the first animated feature-length film issued in the format. Fantasia 2000 was opened wide in the United States on June 16, 2000 and has earned $90.8 million in gross revenue
Appearances in EDP projects
Edit
Section heading
Edit
Write the second section of your page here.