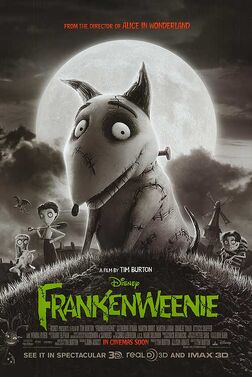 Frankenweenie is a 2012 American 3D stop-motion-animated fantasy film directed by Tim Burton.[3] It is a remake of Burton's 1984 short film of the same name and is a parody of and a homage to the 1931 film Frankenstein based on Mary Shelley's book of the same name. The voice cast includes four actors who worked with Burton on previous films: Winona Ryder (Beetlejuice and Edward Scissorhands); Catherine O'Hara (Beetlejuice and The Nightmare Before Christmas); Martin Short (Mars Attacks!); and Martin Landau (Ed Wood and Sleepy Hollow).
Frankenweenie is in black and white. It is also the fourth stop-motion film produced by Burton and the first of those four that is not a musical. In the film, a boy named Victor loses his dog, named Sparky, and uses the power of electricity to resurrect him — but is then blackmailed by his peers into revealing how they too
can reanimate their deceased past pets and other creatures, resulting in mayhem. The tongue-in-cheek film contains numerous references and parodies related to the book, past film versions of the book and other literary classics.
Frankenweenie, the first black-and-white feature film and the first stop-motion film to be released in IMAX 3D,[4] was released by Walt Disney Pictures on October 5, 2012 and met with positive reviews and moderate box office sales. The film won the Saturn Award for Best Animated Film and was nominated for an Academy Award; a Golden Globe; a BAFTA; and an Annie Award for Best Film in each respective animated category.