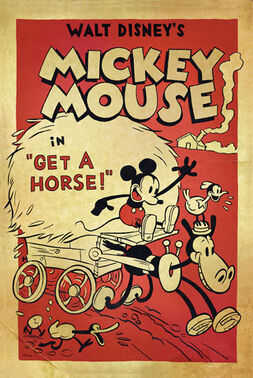 Get a Horse! is a 2013 American 3D animated slapstick comedy short film, produced by Walt Disney Animation Studios.[4] Combining black-and-white hand-drawn animation and color[5] CGI animation, the short features the characters of the late 1920s Mickey Mouse cartoons, and features archival recordings of Walt Disney as the voice of Mickey Mouse.[5][6] It is the first original Mickey Mouse theatrical animated short since Runaway Brain (1995), and the first appearance of Oswald the Lucky Rabbit in a Disney animated production in 85 years.
Ad blocker interference detected!
Wikia is a free-to-use site that makes money from advertising. We have a modified experience for viewers using ad blockers

Wikia is not accessible if you've made further modifications. Remove the custom ad blocker rule(s) and the page will load as expected.