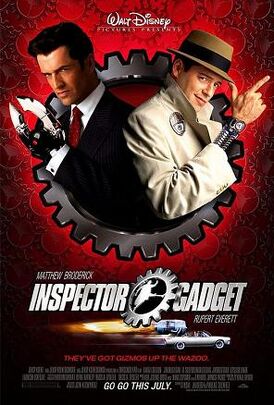 Inspector Gadget is a 1999 live-action action-comedy film loosely based on the 1983 animated cartoon series of the same name. It starred Matthew Broderick as the title character, along with Rupert Everett as Dr. Claw, Michelle Trachtenberg as Penny, and Dabney Coleman as Chief Quimby. Two new characters were introduced, Brenda Bradford (played by Joely Fisher) and the Gadgetmobile (voiced by D. L. Hughley). The film tells the story of how Inspector Gadget and Dr. Claw came to be in the cartoon.
The film was produced by Caravan Pictures and DIC Entertainment and distributed by Walt Disney Pictures. It was filmed in Pittsburgh, Pennsylvania, Baton Rouge, Louisiana, and Los Angeles, California, with the ice castle-like main tower of Pittsburgh's PPG Place playing a central role. This was the last film produced by Caravan Pictures before it absorbed into Spyglass Entertainment. The film was followed by the 2003 direct-to-video sequel Inspector Gadget 2
Appearences in EDP projects
Edit
Section heading
Edit
Write the second section of your page here.