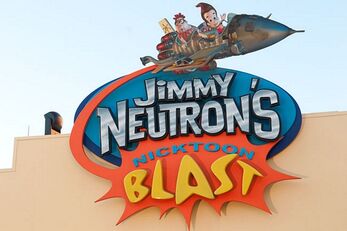 Jimmy Neutron's Nicktoon Blast was a simulator ride at Universal Studios Florida that replaced The Funtastic World of Hanna-Barbera. The story line revolved around Ooblar, (brother to King Goobot V who is an enemy of Jimmy's) from the Yolkian planet has stolen Jimmy's newest rocket creation, the Mark IV. Jimmy, along with his best friend Carl and robotic canine, Goddard, invite the audience to give chase in other rockets through the worlds and sound stages of the Nicktoons.
On March 14, 2011, Universal announced that the attraction would begin operating on a seasonal schedule starting on April 1, 2011, and would operate for limited amounts of time throughout the spring and summer seasons before it closed completely on August 18, 2011.[1] Jimmy Neutron's Nicktoon Blast was replaced by Despicable Me: Minion Mayhem on July 2, 2012.[2]
Appearances in EDP projects
Edit
Ad blocker interference detected!
Wikia is a free-to-use site that makes money from advertising. We have a modified experience for viewers using ad blockers

Wikia is not accessible if you've made further modifications. Remove the custom ad blocker rule(s) and the page will load as expected.