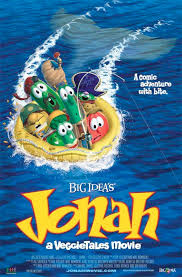 Jonah: A VeggieTales Movie is a 2002 American computer-animated comedy adventure film, based on VeggieTales, produced by Big Idea, Inc. and F.H.E. Pictures. The movie premiered on August 14, 2002 at a Hollywood movie theater and came out as a regular release 2 months later, on October 4, 2002. It is the first feature-length film in the VeggieTales series. The movie also came out on VHS and DVD on March 4, 2003 as a worldwide home video release in both full-screen and widescreen.
The themes for the film are compassion and mercy. The film weaves two stories together to illustrate these themes. The first takes place in the current day and concerns a mishap that occurs on the way to a concert. The second, set in ancient Israel, is based directly on the biblical story of Jonah. Through both stories viewers learn that they should be compassionate and merciful and that all people deserve a second chance.
This film features the popular "Pirates Who Don't Do Anything" in both segments. They were first seen in the Silly Song of the same name in Very Silly Songs! and later hosted The Ultimate Silly Song Countdown.
Most of the animation was done in house by Big Idea Productions.
Appearances in EDP Projects
Edit
AniMat's Classic Reviews - Jonah: A VeggieTales Movie he reviews the film and gives it an average review with a 5/10 rating for having a story that stays true to the Biblical tale and has a message and heart that's in the right place, but hammers it too hard and adds too much goofiness, sometimes decent, but still amateur, animation and songs that are as preachy as hell.
Ad blocker interference detected!
Wikia is a free-to-use site that makes money from advertising. We have a modified experience for viewers using ad blockers

Wikia is not accessible if you've made further modifications. Remove the custom ad blocker rule(s) and the page will load as expected.