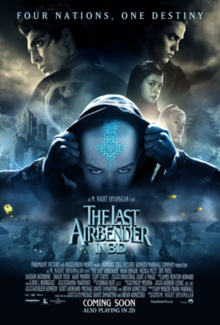 The Last Airbender is a 2010 American fantasy adventure film written, produced, and directed by M. Night Shyamalan.[6] It is based on the first season of the Nickelodeon animated series Avatar: The Last Airbender. The film stars Noah Ringer as Aang,[7] with Dev Patel as Prince Zuko, Nicola Peltz as Katara, and Jackson Rathbone as Sokka.
Development for the film began in 2007. It was produced by Nickelodeon Movies and distributed by Paramount Pictures.[8] Premiering in New York City on June 30, 2010, it opened in the United States the following day, grossing an estimated $16 million.[9][10]
The film was universally panned by critics. Many reviewers cited inconsistencies within the plot and between the screenplay and the source material, as well as the acting, writing and casting. The film swept the Golden Raspberry Awards in 2010, with five wins including Worst Picture and has been considered to be one of the worst films ever made.[11] Despite negative reviews, The Last Airbender opened in second place at the box office behind The Twilight Saga: Eclipse. Produced on a $150 million budget, the film grossed $131 million domestically and $319 million
Appearences in EDP Projects
Edit
Ad blocker interference detected!
Wikia is a free-to-use site that makes money from advertising. We have a modified experience for viewers using ad blockers

Wikia is not accessible if you've made further modifications. Remove the custom ad blocker rule(s) and the page will load as expected.