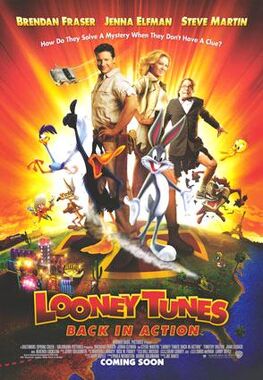 Looney Tunes: Back in Action is a 2003 American live-action/animated fantasy spy action comedy film, directed by Joe Dante. It is the third feature-length live-action animation hybrid film to feature Looney Tunes characters, after Who Framed Roger Rabbit (1988) and Space Jam (1996).
The plot revolves around Daffy Duck and Bugs Bunny (both voiced by Joe Alaskey) helping aspiring daredevil Damian "D.J." Drake, Jr. (Brendan Fraser) and studio executive Kate Houghton (Jenna Elfman) find the "blue monkey" diamond, in order to keep it out of the hands of the evil Acme Corporation chairman (Steve Martin), who plans to use it to turn mankind into monkeys. The film was theatrically released on November 14, 2003 with mixed-to-positive critical reception.[3][4] However, the film was a box office bomb,[5][6] grossing $68.5 million worldwide against an $80 million budget.[2] This was the final film to be scored by composer Jerry Goldsmith, who died less than a year after the film's release.
Ad blocker interference detected!
Wikia is a free-to-use site that makes money from advertising. We have a modified experience for viewers using ad blockers

Wikia is not accessible if you've made further modifications. Remove the custom ad blocker rule(s) and the page will load as expected.