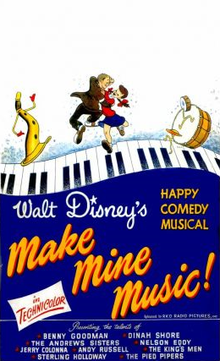 Make Mine Music is an 1946 American animated anthology film produced by Walt Disney and released to theatres on April 20, 1946. It is the 8th animated feature in the Walt Disney Animated Classics series.
During the Second World War, much of Walt Disney's staff was drafted into the army, and those that remained were called upon by the U.S. gov
ernment to make training and propaganda films. As a result, the studio was littered with unfinished story ideas. In order to keep the feature film division alive during this difficult time, the studio released six package films including this one, made up of various unrelated segments set to music. This is the third package film, following Saludos Amigos and The Three Caballeros. It received mixed to positive reviews, though its first segment, The Martins and the Coys, was panned by critics due to its overuse of violence. The film was entered into the 1946 Cannes Film Festival.[2]
The musical director was Al Sack.[3]
Ad blocker interference detected!
Wikia is a free-to-use site that makes money from advertising. We have a modified experience for viewers using ad blockers

Wikia is not accessible if you've made further modifications. Remove the custom ad blocker rule(s) and the page will load as expected.