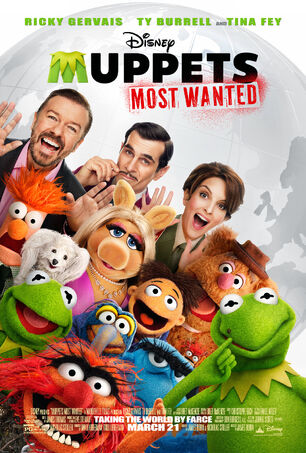 Muppets Most Wanted is a 2014 American musical comedy caper film produced by Walt Disney Pictures and the eighth theatrical film featuring the Muppets.[5] Directed by James Bobin and written by Bobin and Nicholas Stoller, the film is a sequel to 2011's The Muppets and stars Ricky Gervais, Ty Burrell, and Tina Fey.[6] In Muppets Most Wanted, the Muppets find themselves unwittingly involved in an international crime caper while on tour in Europe.[7]
The majority of the production team behind The Muppets returned for Muppets Most Wanted including Bobin, Stoller, producers David Hoberman and Todd Lieberman of Mandeville Films,[8] and music supervisor Bret McKenzie.[9][10]
Principal photography commenced in January 2013 at Pinewood Studios in London.[11] Muppets Most Wanted premiered March 11, 2014 in Los Angeles, California and was released in North America on March 21, 2014.
Appearences in EDP projects
Edit
Section heading
Edit
Write the second section of your page here.