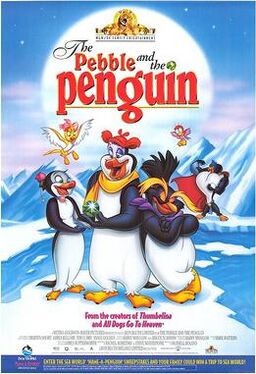 The Pebble and the Penguin is a 1995 American animated musical film, based on the true life mating rituals of the Adelie penguins in Antarctica, produced and directed by Don Bluth and Gary Goldman. The film was released to theaters on April 11, 1995 by Metro-Goldwyn-Mayer in North America in Australia by Hoyts and internationally by Warner Bros. Family Entertainment.
Appearances in EDP projects
Edit
Ad blocker interference detected!
Wikia is a free-to-use site that makes money from advertising. We have a modified experience for viewers using ad blockers

Wikia is not accessible if you've made further modifications. Remove the custom ad blocker rule(s) and the page will load as expected.