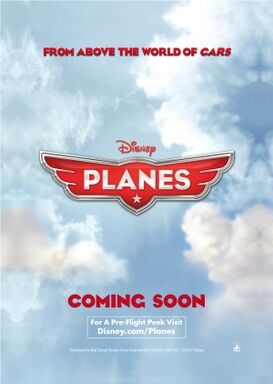 Planes is a 2013 American 3D computer-animated sports comedy film produced by DisneyToon Studios and released by Walt Disney Pictures.[9] It is a spin-off of Pixar's Cars franchise and the first film in a planned Planes trilogy.[10] Despite not being produced by Pixar, the film was co-written and executive produced by Pixar's chief creative officer John Lasseter, who directed the Cars films.
Like most of DisneyToon's films, it was initially set to be released as a direct-to-video film,[11] but was instead theatrically released on August 9, 2013 in the Disney Digital 3D and RealD 3D formats[6][12] with a box office gross of $219,788,712 worldwide.[8] A sequel, titled Planes: Fire & Rescue, is scheduled for a theatrical release on July 18, 2014.
Appearences in EDP Projects
Ad blocker interference detected!
Wikia is a free-to-use site that makes money from advertising. We have a modified experience for viewers using ad blockers

Wikia is not accessible if you've made further modifications. Remove the custom ad blocker rule(s) and the page will load as expected.