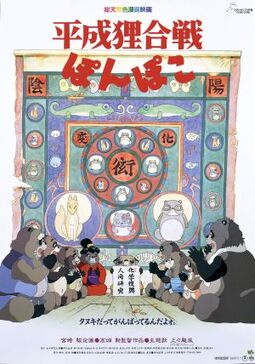 Pom Poko
 (Japanese: 平成狸合戦ぽんぽこ Hepburn: 
Heisei Tanuki Gassen Ponpoko
, lit. "Heisei-era Raccoon Dog War Ponpoko") is a 1994 Japanese animated fantasy film directed by Isao Takahata and animated by Studio Ghibli.
Consistent with Japanese folklore, the tanuki (Japanese raccoon dogs, Nyctereutes procyonoides viverrinus) are portrayed as a highly sociable, mischievous species, which are able to use "illusion science" to transform into almost anything, but too fun-loving and too fond of tasty treats to be a real threat – unlike the kitsune (foxes) and other shape-shifters. Visually, the tanuki in this film are depicted in three ways at various times: as realistic animals, as anthropomorphic animals that occasionally wear clothes, and as cartoony figures based on the manga of Shigeru Sugiura (of whom Takahata is a great fan). They tend to assume their realistic form when seen by humans, their cartoony form when they are doing something outlandish or whimsical, and their anthropomorphic form at all other times.
Prominent testicles are an integral part of tanuki folklore, and they are shown and referred to throughout the film, and also used frequently in their shape-shifting. This remains unchanged in the DVD release, though the English dub (but not the subtitles) refers to them as "pouches". Also, in the English dub and subtitles, the animals are never referred to as "raccoon dogs", which is the more accurate English name for the tanuki, instead they are incorrectly referred to as just "raccoons".
Ad blocker interference detected!
Wikia is a free-to-use site that makes money from advertising. We have a modified experience for viewers using ad blockers

Wikia is not accessible if you've made further modifications. Remove the custom ad blocker rule(s) and the page will load as expected.