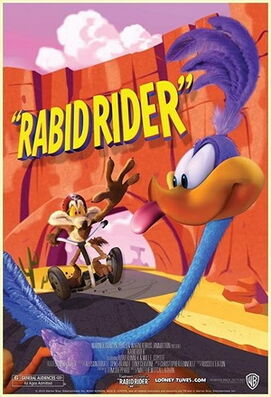 Rabid Rider is a 2010 Looney Tunes film starring characters Wile E. Coyote and Road Runner. It was directed by Matthew O'Callaghan, written by Tom Sheppard, produced by Reel FX Creative Studios[1] and released by Warner Bros. It is the third Wile E. Coyote and Road Runner movie made into CGI in 3D and it was released with Yogi Bear.[2] The short was also released on the Yogi Bear Blu-ray.[3]A "4-D" version - enhanced with physical effects like vibration, flashing lights, and blasts of air - runs in a specially equipped theatre at the Cincinnati Zoo.
Appearances in EDP Projects
Edit
AniMat's Reviews - Free Birds In the introduction at the beginning of the review, he mentions that before Free Birds, Reel FX made shorts, theme park attractions, and spin-offs for other big animated franchises. One of which that he mentions is the Looney Tunes, then the poster of this short appears on screen as an example.
Ad blocker interference detected!
Wikia is a free-to-use site that makes money from advertising. We have a modified experience for viewers using ad blockers

Wikia is not accessible if you've made further modifications. Remove the custom ad blocker rule(s) and the page will load as expected.