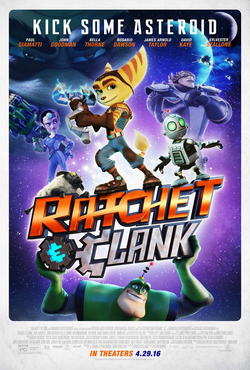 Ratchet & Clank is a 2016 American-Canadian 3D computer-animated science fiction action comedy film based on the first game of the platforming video game series of the same name. The film stars the voices of James Arnold Taylor, David Kaye, Paul Giamatti, John Goodman, Bella Thorne, Rosario Dawson and Sylvester Stallone.
Series creators Insomniac Games helped with the film's production, screenplay, character development and animation. The film was directed by Jericca Cleland and Kevin Munroe, featuring an original story written by Munroe, Gerry Swallow and former Insomniac Games Senior Writer T.J. Fixman, who started writing for the series with the Future saga. Several cast members from the games reprised their respective voice roles, and assets from the video games were utilized in the film. The film was released on April 29, 2016 by Gramercy Pictures.
Appearences in EDP projects
Edit
AniMat's Reviews - Ratchet & Clank While he thought the animation was decent, he gives the film the AniMat's Seal of Garbage for it's poorly written and cliche driven story with unfunny humor, and characters that would make him refuse to play the game. He does mention that he never played the games. He sums it up by saying it would only appeal to the fans of the games.