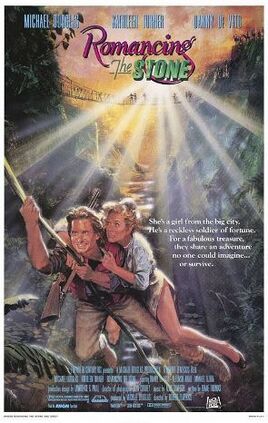 Romancing the Stone is a 1984 American action-adventure romantic comedy. Directed by Robert Zemeckis, it stars Michael Douglas, Kathleen Turner and Danny DeVito. The film was followed by a 1985 sequel, The Jewel of the Nile.
The film earned over $86,572,238 worldwide in box-office receipts. It also helped launch Turner to stardom, reintroduced Douglas to the public as a capable leading man, and gave Zemeckis his first box-office success. Decades later, it retains critical acclaim, with an 87% approval rating on Rotten Tomatoes.[5]
Appearences in EDP projects
Edit
Ad blocker interference detected!
Wikia is a free-to-use site that makes money from advertising. We have a modified experience for viewers using ad blockers

Wikia is not accessible if you've made further modifications. Remove the custom ad blocker rule(s) and the page will load as expected.