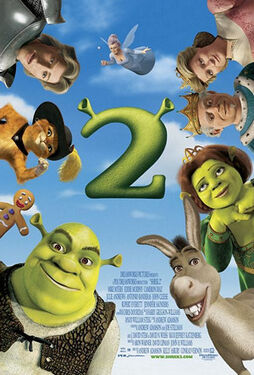 Shrek 2 is a 2004 American computer-animated fantasy comedy film produced by DreamWorks Animation and directed by Andrew Adamson, Kelly Asbury and Conrad Vernon. It is the second installment in the Shrek series, the sequel to 2001's Shrek, and features the voices of Mike Myers, Eddie Murphy, Cameron Diaz, Antonio Banderas, Julie Andrews, John Cleese, Rupert Everett and Jennifer Saunders.
Like its predecessor, Shrek 2 received positive reviews. Shrek 2 scored the second-largest three-day opening weekend in US history at the time of release,[2] as well as the largest opening for an animated film until May 18, 2007, when it was eclipsed by its sequel Shrek the Third. As of 2011, it is the inflation-adjusted 32nd-highest-grossing film of all time in the US.[4] It went on to be the highest-grossing film of 2004.[5] The associated soundtrack reached the top ten of the Billboard 200. It is also the seventh-highest ticket selling animated film of all time.[6] It is DreamWorks's most successful film to date and was also the highest-grossing animated film of all time worldwide[7] until Toy Story 3 surpassed it in 2010; it is now the sixth highest-grossing animated film of all time.
Appearences in EDP Projects
Edit
Ad blocker interference detected!
Wikia is a free-to-use site that makes money from advertising. We have a modified experience for viewers using ad blockers

Wikia is not accessible if you've made further modifications. Remove the custom ad blocker rule(s) and the page will load as expected.