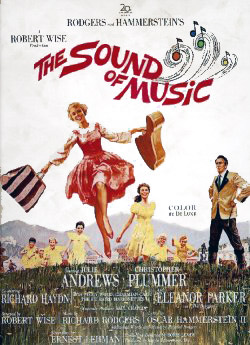 The Sound of Music is a 1965 American musical film directed and produced by Robert Wise and starring Julie Andrews and Christopher Plummer. The film is derived from the Broadway musical The Sound of Music, with songs written by Richard Rodgers and Oscar Hammerstein II, the musical book written by the writing team of Howard Lindsay and Russel Crouse, and the screenplay written by Ernest Lehman. Based on the book The Story of the Trapp Family Singers by Maria von Trapp, the film is about a young woman who leaves an Austrian convent to become a governess to the seven children of a naval officer widower. The Sound of Music contains several popular songs, including "Edelweiss", "My Favorite Things", "Climb Ev'ry Mountain", "Do-Re-Mi", "Sixteen Going on Seventeen", "The Lonely Goatherd", and the title song, "The Sound of Music".
The Sound of Music was filmed on location in Salzburg, Austria; the state of Bavaria in Germany; and at the 20th Century Fox studios in California, United States. It was photographed in the 70mm Todd-AO format by Ted D. McCord. The film won five Academy Awards including Best Picture and displaced Gone with the Wind as the highest-grossing film of all-time. The cast album was also nominated for a Grammy Award for Album of the Year.
In 2001, the United States Library of Congress selected the film for preservation in the National Film Registry as it was deemed "culturally, historically, or aesthetically significant."
Appearences in EDP Projects
Edit
Animation Lookback: Walt Disney Animation Studios in part 14, when talking about Mary Poppins, AniMat mentions The Sound of Music as one of many other films that actress, Julie Andrews was in. At the mention the poster for it appears onscreen, alongside the poster for Shrek 2. Just then, the poster for Shrek the Third is about to slide into view, but the characters on the Shrek 2 poster get buggy-eyed, and a speach ballon appears above them, saying, "go away!" With that, the poster for Shrek the Third quickly slides offscreen.