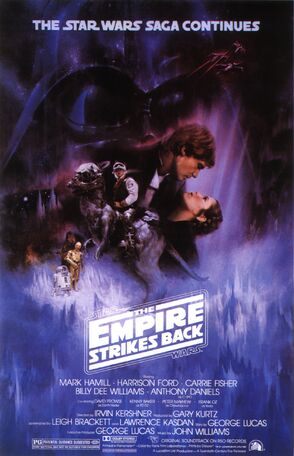 Star Wars Episode V: The Empire Strikes Back is a 1980 American Space opera film, directed by Irvin Kershner, and produced by Gary Kurts and George Lucas, with screenplay by Leigh Brackett and Lawrence Kasdan. It's a sequel to the 1977 film: Star Wars Episode IV: A New Hope and the second installment to the Star Wars trilogy, starring Mark Hamill, Harrison Ford, Carrie Fisher, Billy Dee Williams, Anthony Daniels, David Prowse, Kenny Baker, Peter Mayhew and Frank Oz.
Three years after the destruction of the Death Star in Episode IV, Darth Vader, the Emperor, and the Galactic Empire is in search for Luke Skywalker, and the rest of the Rebel Alliance. As Luke's friends: Han Solo, Princess Leia, Chewbacca and others are being chased by the Empire, Luke, has to learns the ways of the force to become a Jedi Knight, from Jedi Master Yoda, in order to confront Darth Vader, and save his friends.
After the success of A New Hope, George Lucas was hoped to be independent from the Hollywood film industry in order to finance the sequel himself,and now he was in charge of Star Wars enterprise, but unfortunately, he decided to not to direct the film, because he was doing other production on other films. Lucas hired a science fiction author Leigh Brackett for a screenwriter of the film and produced a handwritten treatment. On February 23, 1978, Brackett died of cancer, but manage to finish the first draft, without any writers, Lucas has to write to second draft alone. He later hired Lawrence Kasdan after he finish the screenplay for a Indian Jones film Raider of the Lost Ark, to help him improve his draft
It went through a difficult production, but Lucas manage to release The Empire Strikes Back on May 21, 1980. it got some mixed reviews, but later it becomes the most acclaimed chapter in the Star Wars Saga. It was the second-highest-grossing sequel of all times and the 13th highest-grosing-film in North America. It has earned over $538 million worldwide, and like A New Hope, It got several re-realeses and another sequel in which was released in 1983, with Star Wars Episode VI: Return of the Jedi.
Appearances in EDP projects
Edit
the film is indirectly mentioned when he says that Ben Burtt did the sound effects for both the original and prequel trilogies before he decided to work on said Pixar film.
Ad blocker interference detected!
Wikia is a free-to-use site that makes money from advertising. We have a modified experience for viewers using ad blockers

Wikia is not accessible if you've made further modifications. Remove the custom ad blocker rule(s) and the page will load as expected.