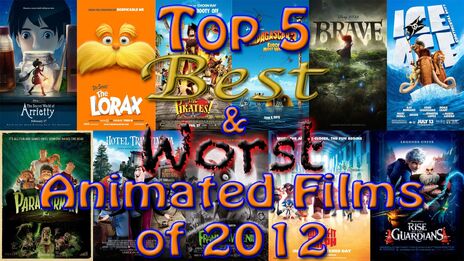 Top 5 Best and Worst Animated Films of 2012 is a video made by AniMat at the beginning of 2013 to show the 5 most memorable and impressive films, as well as the most terrible and and wrathful animated films of the preceding year, 2012. He also has an Honorable Mention of The Pirates! Band of Misfits before the worst list.
Countdown
Edit
Best
5. ParaNorman
4. Brave
2. The Secret World of Arrietty
Worst
5. Madagascar 3: Europe's Most Wanted
3. The Lorax
His thoughts on 2013's films in advance
Edit
Escape From Planet Earth: Ugh.
The Croods: Maybe.
Epic: Interesting.
Monsters University: Doubt.
Despicable Me 2: Awesome!
Turbo: We'll see.
Planes: Wait! This'll be in theaters?
Cloudy With a Chance of Meatballs 2: Oh no!
Mr. Peabody & Sherman: Might have potential.