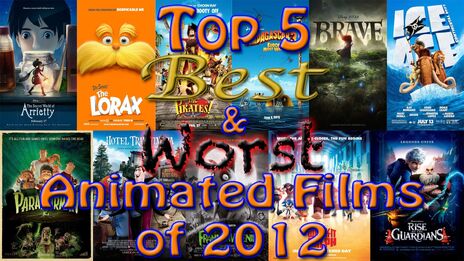 Top 5 Best and Worst Animated Films of 2012 is a video made by AniMat at the beginning of 2013 to show the 5 most memorable and impressive films, as well as the most terrible and and wrathful animated films of the preceding year, 2012. He also has an Honorable Mention of The Pirates! Band of Misfits before the worst list.
Countdown
Edit
Best
5. ParaNorman
4. Brave
2. The Secret World of Arrietty
Worst
5. Madagascar 3: Europe's Most Wanted
3. The Lorax
Ad blocker interference detected!
Wikia is a free-to-use site that makes money from advertising. We have a modified experience for viewers using ad blockers

Wikia is not accessible if you've made further modifications. Remove the custom ad blocker rule(s) and the page will load as expected.