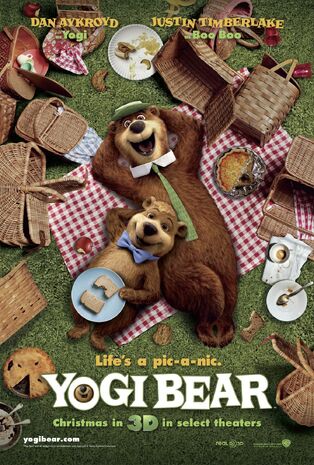 Yogi Bear is a 2010 American 3D comedy film adaptation of the Hanna-Barbera cartoon series The Yogi Bear Show directed by Eric Brevig.[3] The film stars Dan Aykroyd, Justin Timberlake, Anna Faris, Tom Cavanagh, T. J. Miller, Nate Corddry, and Andrew Daly. Distributed by Warner Bros. with Hanna-Barbera serving as a co-producer, the film tells the story of Yogi Bear as he tries to save his park from being logged. Principal photography began in November 2009. It was preceded by the 3D short Rabid Rider, starring Wile E. Coyote and Road Runner.[4] Even though the movie received negative reviews from critics, it was still a box office success.
Appearences in EDP projects
Edit
Top 10 Worst Films Based on a Cartoon he awards Yogi Bear the #9 spot on the list, and all while he talks about it, footage from the film is shown. Later, when talking about the Honorable Mentions, he mentions the film again, and compares it to the much-better, 1964 animated film, Hey There, It's Yogi Bear! at the mention, the film's poster slides on and off screen.
Section heading
Edit
Write the second section of your page here.