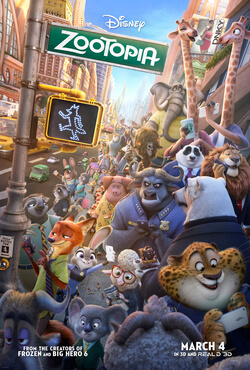 Zootopia (known as Zootropolis in some territories)[5][6] is a 2016 American 3D computer-animated neo-noir buddy comedy-drama adventure film[7] produced by Walt Disney Animation Studios and released by Walt Disney Pictures. It is the 55th animated feature in the Walt Disney Animated Classics series.
Zootopia was directed by Byron Howard and Rich Moore, co-directed by Jared Bush, and features the voices of Ginnifer Goodwin, Jason Bateman, Idris Elba, J.K. Simmons, Tommy Chong, Octavia Spencer, Jenny Slate, and Shakira. It was released in the Disney Digital 3D, RealD 3D, and IMAX 3D formats on March 4, 2016.[8][9] The film details the unlikely partnership between a rabbit police officer and a red fox con artist as they uncover a conspiracy that involves missing predator civilians. Zootopia received critical acclaim, with praise for its graphic design, sophisticated writing with its mix of humor and drama, and timely themes about prejudice and stereotypes.[10][11] The film opened to record-breaking box office success in several countries.[12][13]
Appearances in EDP Projects
Edit
Ad blocker interference detected!
Wikia is a free-to-use site that makes money from advertising. We have a modified experience for viewers using ad blockers

Wikia is not accessible if you've made further modifications. Remove the custom ad blocker rule(s) and the page will load as expected.